Support recognized with Patriotic Employer Award
Wolf receives honor
---
Support recognized with Patriotic Employer Award
Posted On: 12/01/21
The Office of the Secretary of Defense has presented Maggie Wolf, director of adult education at Kankakee Community College, with a Patriotic Employer Award.

Wolf was nominated by Gregg Beglau, coordinator of student support and transition in KCC's Adult and Community Education Department. Beglau is also a chief petty officer in the Navy Reserves, stationed at Naval Station Great Lakes, north of Chicago.
The Patriotic Employer Award is offered through the Department of Defense Employer Support of the Guard and Reserve program. According to the ESGR website, the award recognizes "support provided directly to the nominating service member and his or her family. The Patriot Award reflects the efforts made to support citizen warriors through a wide-range of measures including flexible schedules, time off prior to and after deployment, caring for families, and granting leaves of absence if needed."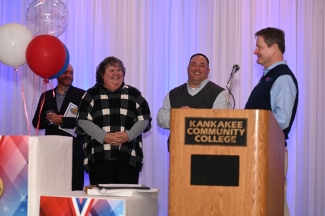 Michael Holub, vice-chair of the Illinois ESGR, presented Wolf with the award at KCC's employee recognition event on Friday, Nov. 5.

"My friend, Gregg, lives his life through honor and integrity," Wolf said. "He serves the students in our program with care and purpose." Wolf added that when Beglau is away from the college on military duty, he stays connected with his KCC co-workers through phone calls and emails.

"His accomplishments are his own, but I have certainly enjoyed watching his achievements from the sidelines," Wolf said. "Supporting Gregg's military services supports my friend, but also supports the country that I love."

"The entire college community is supportive of my service," Beglau said. "They always wish me well when I leave on orders. When I was selected and accepted as a chief petty officer a couple of years ago, my supervisor (Wolf) recognized my accomplishment by having a celebration for me at work and inviting the entire college community.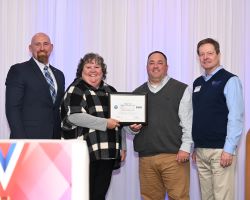 "My supervisor makes it a point to say that she does not expect me to do my work while I am away. She allows me to, because I have a personal sense of pride with my work responsibilities, and it is preferable to me to continue to respond to emails as they come."

KCC is also offers a number of services to veterans and their dependents who are students. It is recognized as a Military Friendly College by militrayfriendly.com.