Trustee recognized for service
Hoekstra receives award
---
Trustee recognized for service
Posted On: 07/14/21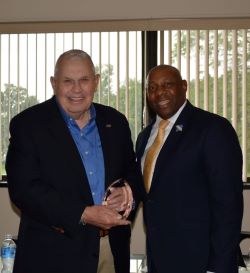 Jerald Hoekstra has been recognized by the Illinois Community College Trustees Association for 30 years of service to the Kankakee Community College board of trustees. 
Jim Reed, executive director of the ICCTA, presented the award to Hoekstra at the college's monthly board meeting on July 12.
"Jerry has been described as a quiet giver, a man of high values, high intensity and honesty," Reed said during the award presentation. "A man whose heart and soul are as big as he is. We are fortunate to have him as one of our long-time leaders and we appreciate his many years of civic service."
Hoekstra, of St. Anne, joined the KCC board of trustees on Dec. 12, 1991. He is the longest-serving current member of the board. During his tenure, Hoekstra has served as the board's vice chair from November 1995 to January 2014; and as board chair from January 2014 to December 2018.
"Thirty years ago, I was asked by Fey Orr if I would consider taking his place on the KCC Board of Trustees when he retired," said Hoekstra. "I felt both humbled and challenged.  My time on the board has been very fulfilling.  KCC has been blessed with many great board members who worked together for the success of the college.  I am just happy that I could be part of it!"
"Trustee Hoekstra has made such a substantial impact here at Kankakee Community College," said KCC President Dr. Michael Boyd. "For 30 years, he's been generous with his time, his energy, and his wisdom.  His motivation has always been enhancing student success because he understands the role that KCC's graduates play in empowering economic development in the communities this college serves.  Jerry's guidance as a trustee has been so helpful for me, personally.  He takes a genuine interest in everyone's success and provides gentle but meaningful mentoring and advice."