Baseball player gets national honor
Congratulations to Owen Jackson
---
Baseball player gets national honor
Posted On: 06/10/21
Kankakee Community College baseball player Owen Jackson has earned a spot on the NJCAA Division II Third Team All-American list. 

As a freshman for the Cavaliers in 2021, Jackson batt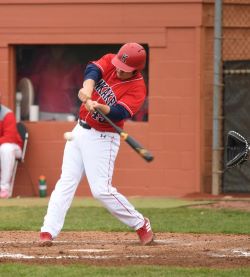 ed .408 in 42 games.

The Kankakee resident and Bishop McNamara Catholic High School graduate pounded out 17 home runs to finish the season ranked sixth in the nation. Jackson was 10th in the nation with 69 runs batted in. Another of Jackson's strong stats was his 132 total bases, which landed him at 15th in the nation. In the field, Jackson played first base and was part of 247 put-outs. He had a fielding percentage of .958.

"Owen had a big freshman year for us offensively and is being highly recruited by Division I programs," said Todd Post, the Cavaliers head baseball coach. "He has a very bright future ahead of him." 

Jackson was also named to the First team All-Region IV squad, along with Dylan Wolff, a pitcher from Joliet. 

The Region IV second team included three Cavaliers: Garrett Latoz, a catcher from Georgetown; Ian Sanders, an infielder from Tinley Park; and Joey Humphrey, an outfielder from Logansport.

More information about KCC athletic teams is at https://athletics.kcc.edu.