Celebrate Women's History Month
Cathy Boicken
---
Celebrate Women's History Month
Posted On: 03/29/21
Cathy Boicken 
Member of the KCC Board of Trustees; President and Chair of the Board of Municipal Bank 
After growing up in the small community of Grant Park, Cathy Boicken was the first in
her family to go to college, earning an associate degree from Kankakee Community
and a bachelor's degree, summa cum laude, from Olivet Nazarene University.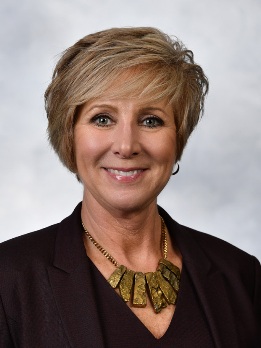 Boicken, through 30 years of dedicated work, rose from secretary in 1980 at Municipal Bank to president and chief executive officer in 2011. She is the only female bank president in Kankakee County. The bank was recently mentioned in
American Bank magazine as one of the top community rated banks in the U.S.

In 2012, the KCC Foundation nominated Boicken for the Illinois Community College Trustees Association Distinguished Alumni award, and selected her for the John Fulton Distinguished Alumnus award.
In addition to her role as president and chief executive officer for Municipal Bank,
Boicken has served on KCC's board of trustees since 2015.
"Trustee Boicken's impact on Kankakee Community College has been significant," said KCC President Dr. Michael Boyd. "Upon joining the Board in 2015, she worked hard to learn about the college's programs. Since that time, she has used this knowledge to establish the highest expectations for our performance. She is an alumna of KCC, and her continuing service to KCC is an indicator of her passion for the college's mission to enhance quality of life through learning. In her role as a college trustee, Cathy's leadership inspires every employee at the college to reflect upon how a community college education can lead to the kind of success she has achieved in her career."

As a community leader, Boicken has been on the board of directors for Uplifted Care (founded as Hospice of Kankakee Valley) since 1998. Boicken has led a number of charitable initiatives, including serving as Hospice of Kankakee Valley's
board vice president and president. She chaired Hospice's Annual Playhouse Raffle for four years, raising money to establish specialized medical care for patients with serious illness.

She also is a founding member of the KCC Women's Giving Circle, a founding member of the Contemporary Council for Economic Development, member of the Bradley Chamber of Commerce and Kankakee County Board of Realtors. While
serving on the local chamber of commerce, Boicken chaired its annual Leadership Development Institute.

Among Boicken's honors are being a member of Phi Theta Kappa, the international honor society for community college students, and the Hospice of Kankakee Valley Service Award.

Boicken said her professional inspiration includes Estee Lauder, co-founder of Estée Lauder Companies and Sara Blakley, founder of Spanx.

"Ask yourself every morning what you can be thankful for in life today," Boicken said. "An attitude of gratitude is key to a happier life and success in any career." Boicken believes hard work and education are keys to career advancement.

"To be successful today, you need to strive to take on more and do more than what is expected," she states. "I don't ask others to do more than I do. If you want to get recognized, you need to go beyond your daily responsibilities."

Throughout her career, Boicken has made an effort to inspire women, including her daughter, Anna, who is finishing her master's degree at Boston College. She and her husband, Terry, reside in Bourbonnais, along with Piper, their golden doodle, who greets all customers at Municipal Bank.