Women's basketball names next coach
Meister brings experience to Cavs
---
Women's basketball names next coach
Posted On: 02/09/21
Casey Hadley Meister will lead the Lady Cavaliers, and serve as the college's assistant athletic director, beginning Oct. 1, 2021.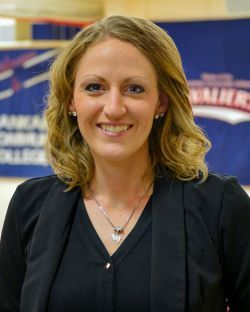 A former KCC player and Division I athlete, Meister has served seven seasons as KCC's women's basketball assistant coach before being named head coach.
 
"With her experiences as a player and assistant coach, Casey is a natural fit for our players and our department," said KCC Athletic Director Todd Post. "Casey brings valuable experiences and game strategy. She also has a good rapport with students and is able to develop their talents on the court and in the classroom."
 
She is taking over from Donnie Denson, who is currently in his 21st season as head coach of the Lady Cavaliers. Denson is a member of the Illinois Basketball Coaches Association Hall of Fame, and earned his 500th victory as a head coach in January. He will retire from KCC on Sept. 30, 2021.
 
"KCC holds a special place in my heart, and I am thankful for the path that led me here," said Meister. "Thanks to Athletic Director Todd Post for this opportunity and Coach Denson for his belief in me and my vision for the program. Everyone knows about the Lady Cavaliers' successes, but not everyone knows what it is like to put that jersey on and play for such a prestigious program. As an alum, I am excited to embrace the legacy of the program and build relationships within the athletic department."
Meister graduated from Reed-Custer High School in 2004, where her basketball honors included being named to the All-State team two times. She still holds the scoring record for the Kankakee All-Area All-Star game (34 points).
 
She played for Denson on the Lady Cavaliers basketball team from 2004-06. At KCC, Meister was selected for the All-Region team (2005 & 2006) and was MVP of the NJCAA Division II Region IV Tournament in 2006. She earned NJCAA All-American honors in 2005 and 2006, and played in the national tournament in 2006. Most recently she was inducted into Region IV Hall of Fame in 2019. 
Meister continued her basketball career with a scholarship to Chicago State University. She transferred to Olivet Nazarene University in Bourbonnais for her senior year. That team won the Chicagoland Collegiate Athletic Conference Tournament, was nationally ranked, and went to the CCAC National Tournament (2008). Meister is a former art teacher at Tri-Point High School and coached for the district from 2008 until 2014. 
Meister lives in Ashkum with her husband, Todd, and their three children: Hadley, Harper and Hudson.