Laptops - Wi-fi hotspots - webcams
Tech loans now available for Spring 2021
---
Laptops - Wi-fi hotspots - webcams
Posted On: 12/10/20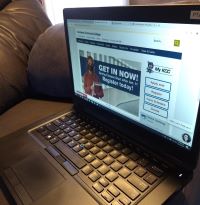 At this time of year, KCC students are finishing finals, checking their grades and finalizing plans for Spring 2021.
Any student who needs a better "tech setup" for spring classes is invited to learn more about the free technology loans offered at KCC. The college has laptops, wi-fi hotspots and webcams to loan. There are limited numbers of each item.
To learn more and make the request: contact your advisor with your needs. You can also email advising@kcc.edu. It is helpful to: Send the email from your KCC email and/or include your student ID number.
The advising department can provide a voucher for the needed item(s). A loan agreement will need to be signed to receive the loan. 
There is no cost to students for the loan. There is a charge if the item is not returned or if it gets damaged.