Dr. Jerry Weber passes away
KCC president - 2001-09
---
Dr. Jerry Weber passes away
Posted On: 11/12/20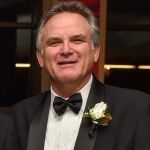 The fifth president of KCC, Dr. Girard Weber, died Wednesday, Nov. 11 at the age of 70. Weber was KCC's president from July 1, 2001 to April 4, 2009.
Upon announcing his departure from KCC, Weber said "It's been a pleasure working at KCC for the past seven years. KCC is poised for the future with a philosophy of continuous quality improvement and with state leadership in sustainability and renewable energy."
He left KCC to become president at College of Lake County in Grayslake, where he served from April 2009 to June 2017. He then accepted the presidency at Bellevue College in Washington, where he worked from July 2017 to March 2020.
At KCC, Weber lead the college through many successful initiatives and fulfilled several goals set by the board of trustees, including the adoption of Academic Quality Improvement Program (AQIP) as an accreditation and planning vehicle. In 2002, the college completed a community-wide strategic planning process, which resulted in a 20-year master facilities plan for the college. While Weber was president, the college opened a Satellite Center in Watseka (2003) and the Education and Employment Center in downtown Kankakee (2007). The college's Riverfront Campus in Kankakee opened a Workforce Development Center (2003), an Arts and Sciences facility (2007), and the Health Careers Center for Excellence (2008).
"Dr. Jerry Weber was a catalyst for change and a champion for sustainability," said KCC president Dr. Michael Boyd. "Jerry started the conversation on our campus about sustainability, and our focus on sustainable and renewable energy training is part of the legacy he left here at KCC. After his departure, the college carried on with that priority. He and I spent some time together a few weeks ago. Jerry visited campus and he toured the renovated Miner Memorial Library and the new Advanced Technology Education Center, which was built to deliver KCC's renewable energy curriculum. I could tell how proud he was of ATEC, even though it occurred after his time at KCC had ended. He made a lasting impact on our campus."
Weber earned a doctorate in higher education administration and a master's degree in educational measurement and statistics from the University of Iowa. He has had two degrees from Northern Illinois University, a master's degree in linguistics and English literature, and a bachelor's degree in English.