Financial Aid Information Nights
Learn about FAFSA - and more
---
Financial Aid Information Nights
Posted On: 09/24/20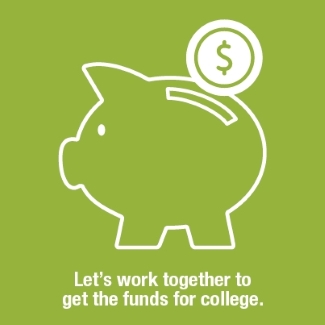 Kankakee Community College is hosting financial aid information nights and workshops to assist college-bound students and their parents in understanding the financial aid process.

The first workshops help students and their parents better understand how to pay for the costs of going to college. They will share how to fill out the FAFSA (Free Application for Federal Student Aid), the form used at all two- and four-year colleges and universities to determine eligibility for federal and state grants, work-study programs, subsidized & unsubsidized student loans and some scholarships. Staff will also explain and clarify the types of aid which is available.

An in-person session will be Thursday, Oct. 1, 2020, from 6-8 p.m. in Room M120 on KCC's Riverfront Campus, 100 College Drive in Kankakee. It will be "hands-on," for those who want  to complete the FAFSA as the steps are presented.

The live webinar session will be Tuesday, Oct. 20, 2020 from 6-8 p.m.

Three additional FAFSA workshops with scholarship information will be offered, once in person and twice as a live webinar.

The in-person session will be Wednesday, Nov. 4, 2020 from 6-8 p.m. in Room M120 on KCC's Riverfront Campus. Those who attend can work on their own FAFSA and scholarship application during the time.

The FAFSA & Scholarship Workshop live webinar will be Thursday, Nov. 19, 2020 from 6-8 p.m. and Wednesday, Dec. 9, 2020 from 6-8 p.m.

All sessions are provided as a public service and are open to students and parents regardless of the college they plan to attend.

The FAFSA becomes available Oct. 1. 

"We recommend that everyone complete the FAFSA as soon as possible because most funds are distributed on a first-come, first-served basis," said Kendra Souligne, KCC coordinator of financial aid. "Even if your plans aren't finalized, your financial aid package starts with submitting a FAFSA."

To register for any of the sessions, visit www.kcc.edu/finaid, click on workshops and choose a date. For in-person sessions, participants will be asked to follow KCC's procedures, including wearing a face covering and completing a certification form.

For more information, visit www.kcc.edu/finaid, phone 815-802-8550 or email finaid@kcc.edu.