Help World Wildlife Federation
Pie in the Face fundraiser
---
Help World Wildlife Federation
Posted On: 02/25/20
The STEM Club is having a Fundraiser to help Animals of Australia.
Vote for the professor you would like to get a pie in the face and help raise money for the World Wildlife Federation. the candidates are:
Prof. Mike Caparula - Math
Prof. Jessica Kawa - Chemistry
Prof. JP Cohen - Biology
Prof. Rebecca Murphy - Radiography
Prof. Jackie Cruz - Respiratory
Prof. Amy Porter - English
Voting will be March 2-5 in the College Center, 11 a.m. - 1 p.m. each day. Votes can also be cast in the Academic Division Office, Room L355. 
1 vote for $1
6 votes for $5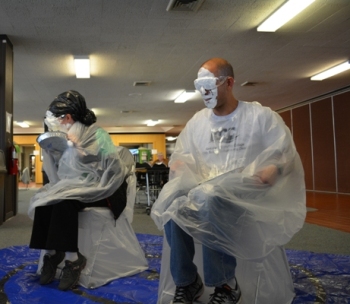 Pie in the face will be at 12:30 p.m. Thursday, March 5 in the College Center.
Shown in the photo: Last year's "winners," Professors Jessica Kawa and JP Cohen.
Koala photo by Valeriia Miller from Pexels.