Fall 2018 Honors list
Posted On: 12/19/18
The following students have been named to the Honors List at Kankakee Community College for the Fall 2018 semester.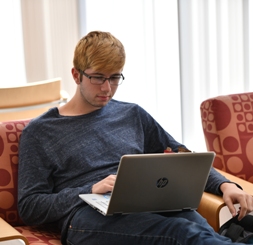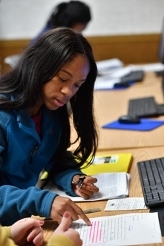 To be named to the Honors List, a student must maintain a grade point average between 3.25 and 3.79 and be enrolled in six or more semester hours.
Aroma Park: Jasmine Campbell, McKenna Jackson, Vanessa Salazar and Hanna Zarate.
Ashkum: Amanda Armold, Brayden Bailey, Matthew Balthazor, Jacob Bramer, Cassidy Gerdes and Andrea Marquez.
Beaverville: Candace Martell.
Beecher: Joel Barraza and Matthew Villarreal.
Bellwood: Bryan Johnson.
Bonfield: Alita Hill, Haley Ireland, Jacob Reilly, Courtney Scott and Megan VanVoorst.
Bourbonnais: Jeremy Ahlden, McKenna Allen, Kaelyn Anderson, Megan Arseneau, Taylor Beseke, Dustin Blaylock, Alexis Bohlmann, Holly Brown, Brittney Burbridge, Lauren Buschek, Clara Capriotti, Leoneel Cervantes, Anahi Chavez, Steven Doig, Alexis Douglas, Carter Dupuis, Stefanie Flory, Amanda Forman, Joshua Fritz, Haley Garbaciak, Sarid Garcia, Catherine Gray, Victoria Grilli, Rachel Gruhn, Charles Hall, Noah Hartsfield, Kelly Higgins, Emily Hourihan, Blair Huffman, Hailey Johnson, Timothy Keast, Noah Kegg, Jackson Kempen, Danielle Kennedy, Carissa Labriola, Liz Lamilla, Laura Lebda, Brandon Littrell, Andrew Lowry, Riahna McLean, Madeline Memenga, Christopher Nicklas, Avery Norwick, Erika Norwick, Dawn Pacheco, Marissa Patchett, Courtney Paulis, Madison Perkins, Andy Pham, Bryce Porter, Dominic Pusateri, Jessica Ramos Sandoval, Gianna Re, Savannah Reno, Rebecca Rogers, Irene Ruiz, Emma Schriner, Lakeya Smith, Samantha Smothers, Samuel Speiser, Jaime Starkey, Owen Starr, Elizabeth Strand, Aidan Stringer, Carleigh Sunn, Amanda Travis, Jacqueline Valadez, Jessica Varney, Diana Voyt, Aiden White, Joshua Wisniewski, Zachary Woods, Julia Yale and Jakob Zirbel.
Bradley: Michael Bisaillon, Madison Bretveld, Luther Carter, Derek Dandurand, Harley Davis, Madeline Ellexson, Jared Francoeur, Victoria Frye, Dianna Gomez, Savanna Harper, Catherine Henry, Caleb Jackson, Zakary Jackson, Bridget Jamros, Taylor Jones, Dylan Krygsheld, Colin Lamie, Carly Lebeau, Brittany Licka, Megan Mueller, Tyler Myers, Alayna O'Brien, Bradley Stosiek and Kaitlynne Weidner.
Buckingham: Andrew Ireland and Megan Kersten.
Cabery: Sierra Williams.
Champaign: Claire Tang.
Charleston: Jamie Thompson.
Chebanse: Declan Alexander, Kaitlin Bowers, Megan Dixon, James Ferris, Breanna Heimberger, Heidi Justice, Paris Patrick, Rodney Ponton, Molly Saindon, Brittney Trudeau and Zowie Trudeau.
Cissna Park: Olivia Powell.
Clifton: Abbey Boudreau, Kyle Buikema, Justin Coggins, Hannah Davis, Alexis Eighnor-Walters, Ethan Fritz, Jeffery Gifford, Morgan Gulick, Taylor Hull, Brian Kirkpatrick, Andrew Riordan and Lauren Zell.
Cullom: Cheyenne Barfield and Jill Grieff.
Danforth: Jamie Legan.
Decatur: Courtnee Riley.
Donovan: Tristan Hann.
Essex: Adam Wright.
Frankfort: Kayelyn Slager.
Gilman: Elia Diaz Varela Toni Grayling and Kirsten Schroeder.
Grant Park: Madison Coletti, Andrea Fuentes, Steven Fuentes, Holly Gilliam, Austin Jacobson, Torri Kimbrel and Jill Morse.
Herscher: Courtney Key, Kaelyn Mausehund, Jessica Torres and Mary Webber.
Joliet: Courtney Blan.
Kankakee: Sara Alvarado, Luis Alvarez, Oren Amotz, Joel Azzarelli, Viviana Baeza, Emmanuel Bannerman-Blankson, Nathan Bowers, Cassmine Campbell, Kaycee Carson, Christina Charlier, Brenda Colin-Barron, Michaela Coppotelli, Jessica Drozda, Cruz Duran, Luke Engelman, Stephanie Gardner, Ethan Geisler, Jasmine Gomez, Colleen Grinstead, Joseph Gubbins, Ashley Harwood, Meghann Heck, Courtney Held, Wesley Hemp, Letora James, Heather Jensen, Cody Jones, Ke'Asha Jones, Natalie Jordan, Aliesha Kadlec, Gabrielle Keller, Shane LaReau, Amari Lewis, Kiara Lewis, Mercedes Lopez-Mancilla, Alexandra Lowery, William Lucas, Melissa Luvian, Mitchell Mahnke, Blair Marko, Caley Martin, Ianeli Medina, Christopher Meyer, Brenda Millan, Felicia Miller, Nicholas Mullins, Molly O'Connor, Kalee Odle, Joel Orozco-Gaytan, Jessica Orozco-Zavala, Stefanie Pizano, Erin Reilly, Aurora Rivera, Maria Rivera, Veronica Rossi, Gizelle Salazar-Martinez, Alyssa Schiel, Chloee Schuldt, Nanjala Shaw-McCain, Luis Soto, Andela Spasojevic, Cooper Spiese, Jesse Szczepanski, Michelle Toler, Katelin Trost, Jacquelin Villagomez, Sarah Vinardi, Montell Wilburn, Meloni Williams and Alexander Hoss.
Kempton: Wyatt Dohe.
Lockport: Shaely Sands.
Manteno: Alexis Andrews, Alyssa Bell, Michael Brady, Regina Cahue, James Deihl, Hayley Easter, Madison Engler, Piaget Felix, Heather Hubbard, Matthew Lynch, Dominique MacLean, Tristain Malone, Damon Myers, Jack Palicki, Rachel Parks, Summer Schimanski, Lyndsie Schleder, Jacob Schreiber, Erin Shackleford Tammy Shields, Jocelyn Stewart, Michael Tomczak and Katelyn Windebank.
Martinton: Colin Corriveau.
Milford: Trenton Hemp and Chelsea Henning.
Momence: Devin Bales, Hunter Cousin, Cade Harrison, Kassandra Howe, Reily Kane, Michael Layhew, Amy Leach, Jon Lobdell, Connal McBride-Schmars, Cecilia Quirarte, Trevor Reaman, Luisa Rodriguez, Kerri Skiles and Sarah Young.
Morris:Travis Kohler.
New Lenox: Jason Hawn.
Onarga: Alondra Barajas, Oscar Camargo and Marisol Melgoza.
Papineau: Lauren Chouinard and Mikayla Cole.
Pembroke Township: Larkeisha Belmont and Anthony Lopez.
Peotone: Karah Anker, Eric Osmolski and Colin Sinish.
Piper City: Crystal Coffey.
Royal: Jake Schlueter.
St. Anne: Fernando Chagoya, Hannah Lance and Lars Menigoz.
Seneca: Paige Hacker.
Steger: Araceli Marez.
Stelle: Glen Margewich.
Sun River Terrace: Jammie Shell.
Tinley Park: Jeremy Nelis.
Watseka: Faith Aaron, Stephanie Blackwell, Emily Bunting, Katelyn Davis, Juan Deharo, Blake Deneau, Daniel Devine, Noah Dietchweiler, Cole Giroux, Jordan Godby, Johnathon Gray, Magan Harris, Joseph Jaskula, Larissa Johnson, Justin McTaggart, Amanda Nedza, Katelyn Norder Makenzie Overacker and Ethan Welch.
Wilmington: Nathan Raimondo.
Bluffton, Ind.: Koltan Moore.
Fort Wayne, Ind.: Isabelle Hille.
Huntertown, Ind.: Nolan Lebamoff.
Newburgh, Ind.: Nathaniel James and Griffin Scaggs.
Walkerton, Ind.: Michael Machnic.
Commerce Township, Mich.: Aaron Ball.
Shown above: Jared Francoeur of Bradley (left) and Amari Lewis of Kankakee.(right).
-30-
Kankakee Community College is an accredited two-year college which awards associate degrees and certificates of completion. KCC prepares students both to transfer to four-year colleges and to enter the workforce. The college also offers continuing education courses and certification training, literacy programs, English as a Second Language and GED preparation. The KCC mission is "Enhancing quality of life through learning." The college has a Riverfront Campus in Kankakee, South Extension Center in Watseka, North Extension Center in Bradley and Manufacturing and Industrial Technology Center in Kankakee.
###
More KCC news and photos are available at our Newsroom, and on Facebook, Twitter and YouTube. Official college logos are available online.
Contact:
Kari Nugent
Director of marketing and public relations
815-802-8256
knugent@kcc.edu