Med Lab Tech grads earn credentials
Posted On: 11/21/18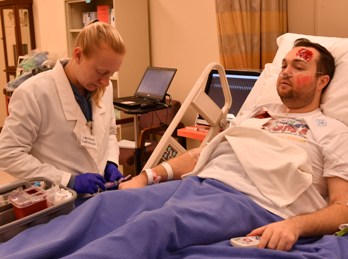 All May 2018 graduates of the medical laboratory technology program at Kankakee Community College who have taken the American Society of Clinical Pathologist's Board of Certification examination have passed.
Twelve KCC graduates took the test between May and September. The comprehensive report of test scores was released in early November. While 100 percent of KCC graduates who took the exam passed the test, 81 percent of students nationwide passed. Those who pass the test carry the credentials of certified Medical Laboratory Technicians.
All the KCC graduates are employed in the field of medical laboratory technology, said Glenda Forneris, director of the program at KCC.
KCC offers a two-year Medical Laboratory Technology associate degree as well as an advanced placement degree for qualified students who have already completed general education requirements. The advanced placement program can be completed in three semesters. The program is accredited by the National Accrediting Agency for Clinical Laboratory Sciences.
KCC also offers a Medical Laboratory Assistant certificate and Phlebotomy certificate.
For more information on a career in medical laboratory technology, contact Forneris at 815-802-8835 or email gforneris@kcc.edu.
In the photo: Hope Spear, a medical laboratory technology student at KCC, was part of a a multi-discipline health careers simulation in October. The "patient" is Nate Karch, KCC assistant nursing professor.