Alumni profile - Jacob Jeje
Posted On: 11/06/18
"It all comes down to passion, drive, and a long-term goal," says Jacob Jeje.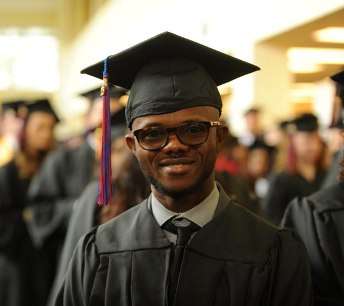 Jeje relocated his family from Nigeria to New York for better opportunities. Eventually, they settled in Illinois to be close to relatives. "I was working some crappy jobs, which I did not like," Jeje said. "I thought about the American dream, that I could decide what I wanted to do, go to college, and get the training I needed to sustain myself and my family."
Jeje decided to enroll in classes at Kankakee Community College. At first, he tried studying to be a nurse but it didn't turn out the way he hoped. "I talked with my academic advisor and she encouraged me to focus on the general education courses," Jeje said. "Not only did her advice help me stay in school but through those courses, I found my career path."
Jeje switched to KCC's Manufacturing Technology program.
In between a full course load, a full time manufacturing job, and another part time job, Jeje was also a husband and a father. "It was rough, really rough," he said. "I got about 4.5 hours of sleep every day."
Jeje didn't always get the perfect grades he wanted because he was balancing many responsibilities. But he wasn't alone. "My wife has always been super supportive," Jeje said. "There were days when I wanted to drop some classes and she would say, 'Just keep going, just keep going.'" He did, as well as earning a spot on the honors list in 2016.
"He was one of the best Manufacturing Technology students I have ever had," says Mark Anderson, director of the Manufacturing Technology program, "He had the best grades, the best attendance, the best attitude." 
Jeje completed three certificates from the manufacturing program, plus a KCC associate degree. He also landed a supervisory position.
"What I studied in school actually helped me get a job really easily," Jeje said. "Not many people find a job so quickly."
Jeje transferred to Governors State University in University Park and became the first person in his family to earn a bachelor's degree. He now works at Pactiv, a manufacturing company. With a short commute, Jeje has more time with his three kids. He's also taking classes for a master's degree in supply chain management. "I'm taking it slow this time, and thinking of my long-term goal," Jeje said.
Looking back, Jeje says, "If you don't have a bigger drive beyond just going to school, you'll be tempted to drop out. Passion keeps you moving, but without a long-term goal, you'll end up with a degree you can't get a job with. It's about balancing all three: passion, drive, and a long-term goals."
-30-
Kankakee Community College is an accredited two-year college which awards associate degrees and certificates of completion. KCC prepares students both to transfer to four-year colleges and to enter the workforce. The college also offers continuing education courses and certification training, literacy programs, English as a Second Language and GED preparation. The KCC mission is "Enhancing quality of life through learning." The college has a Riverfront Campus in Kankakee, South Extension Center in Watseka, North Extension Center in Bradley and Manufacturing and Industrial Technology Center in Kankakee.
###
More KCC news and photos are available at our Newsroom, and on Facebook, Twitter and YouTube. Official college logos are available online.
Contact:
Kari Nugent
Director of marketing and public relations
815-802-8256
knugent@kcc.edu