Veterans Day Events 2018
Posted On: 10/29/18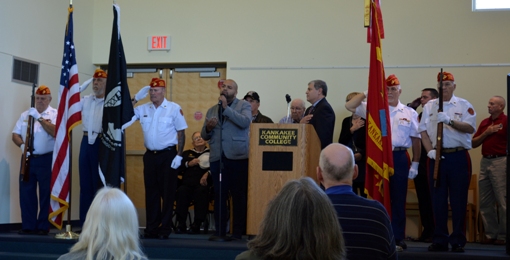 On Thursday, Nov. 8, Kankakee Community College will commemorate Veterans Day with a reception and recognition ceremony.
The day will begin with a reception and viewing of artwork from 10-11 a.m. A ceremony honoring veterans will be at 11 a.m. Nov. 8 in the lower-level of the KCC Harold and Jean Miner Memorial Library.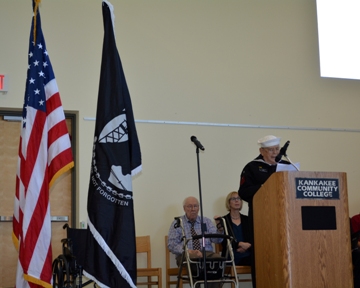 The event is free and the public is invited.
The art exhibit—which will be on display Nov. 7 to Dec. 7—features works of Yvette Pino, a veteran who served in Iraq.
At the recognition ceremony, posting of the colors will be from the Marine Corps League Detachment 1253.
For more information, contact Kendra Souligne, co-sponsor of KCC's Veteran's Association, at ksouligne@kcc.edu or phone 815-802-8556.
KCC is located south of downtown Kankakee near River Road, off U.S. 45-52, or take Interstate 57 to Exit 308 and follow the signs. Directions are at www.kcc.edu/directions.
-30-
Kankakee Community College is an accredited two-year college which awards associate degrees and certificates of completion. KCC prepares students both to transfer to four-year colleges and to enter the workforce. The college also offers continuing education courses and certification training, literacy programs, English as a Second Language and GED preparation. The KCC mission is "Enhancing quality of life through learning." The college has a Riverfront Campus in Kankakee, South Extension Center in Watseka, North Extension Center in Bradley and Manufacturing and Industrial Technology Center in Kankakee.
###
More KCC news and photos are available at our Newsroom, and on Facebook, Twitter and YouTube. Official college logos are available online.
Contact:
Kari Nugent
Director of marketing and public relations
815-802-8256
knugent@kcc.edu