Hispanic Heritage Month performance
Posted On: 10/11/18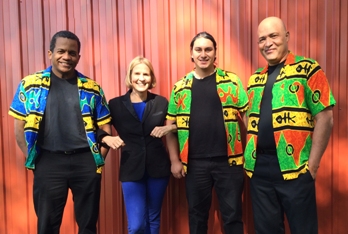 The community is invited to a free Latin dance music event in celebration of National Hispanic Heritage month.
The event will be at noon Wednesday, Oct. 17 in the College Center at Kankakee Community College.
Featured performers are Tropicante, a four-person ensemble which has traveled the U.S. and internationally, bringing smiles to thousands with contagious, upbeat music. 
Hailing from the sultry savannas of Colombia and the warm beaches of Panama, Tropicante's lead singers, Karin Stein and Ed East, will keep you energized with the sound of popular Latin beats. You'll be swinging and clapping to the Colombian "cumbia," the Dominican "merengue," the Venezuelan "tambor," the Brazilian "samba," and more. The ensemble's lively concerts are sprinkled with first-rate musicianship, anecdotes, and humor. 
KCC's Student Life Office and Humanities and Social Sciences Division are hosting this event.
For more information, contact Linh Williams, KCC's coordinator of student life and development, 815-802-8628 or email ltwilliams@kcc.edu.
KCC is located south of downtown Kankakee off River Road, near U.S. 45-52, or take Interstate 57 to Exit 308 and follow the signs.
-30-
Kankakee Community College is an accredited two-year college which awards associate degrees and certificates of completion. KCC prepares students both to transfer to four-year colleges and to enter the workforce. The college also offers continuing education courses and certification training, literacy programs, English as a Second Language and GED preparation. The KCC mission is "Enhancing quality of life through learning." The college has a Riverfront Campus in Kankakee, South Extension Center in Watseka, North Extension Center in Bradley and Manufacturing and Industrial Technology Center in Kankakee.
###
More KCC news and photos are available at our Newsroom, and on Facebook, Twitter and YouTube. Official college logos are available online.
Contact:
Kari Nugent
Director of marketing and public relations
815-802-8256
knugent@kcc.edu