KCC's president featured on podcast
Posted On: 11/08/23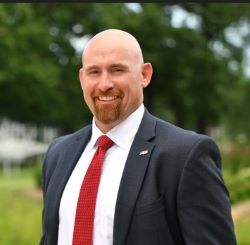 KCC's president, Dr. Michael Boyd, is featured on the newest episode of Kankakee Podcast.
The host and interviewer is Jake LaMore.
"Dr. Boyd's personal journey from a farm family to educational leadership is both inspiring and enlightening," LaMore said in his episode description. "He shares his vision for a more robust and resilient community, where economic development is balanced with environmental responsibility. Dr. Boyd also highlights KCC's crucial role in providing affordable education and creating pathways to family-sustaining careers."
Posted on Nov. 6, the episode is "#123: From Farm Life to Community Leadership: Dr. Michael Boyd's Inspiring Journey."
The interview is available through all major podcast services. It can also be streamed directly from the Kankakee Podcast site.
Tweet