KCC receives $250,000
Posted On: 08/24/23
Kankakee Community College has accepted $250,000 obtained through a legislative appropriation supported by the efforts of Illinois Sen. Patrick Joyce. 
"Right now, we see a misalignment between the skills in our workforce and the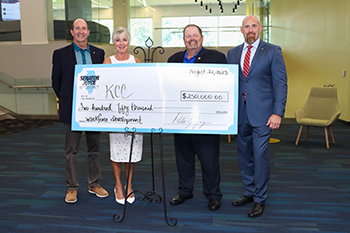 opportunities in our local economy," said Dr. Michael Boyd, KCC's president. "We are going to use these resources to bridge this gap. This funding will play a pivotal role in advancing Science, Technology, Engineering and Math (STEM) education and positively impacting workforce development in Kankakee County and the region.
"Our commitment is that these resources will drive improvements to STEM education and manufacturing," Boyd continued. Boyd also said he appreciates Sen. Joyce's recognition of KCC's role in workforce development.
"Career opportunities in advanced STEM fields are growing rapidly in our community," Boyd said. "Local advanced manufacturers like Kensing, Valspar, MilliporeSigma and CSL Behring, need a STEM-prepared workforce." 
KCC offers, 11 STEM-related programs, including Engineering, Biological Sciences, Physics, Chemistry, Math, Manufacturing,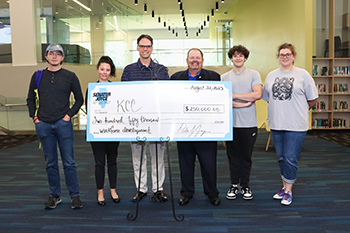 Electrical Engineering Technology, Agriculture/Horticulture, Air Conditioning/Refrigeration, Automotive, and Welding. Training in these programs can be completed within a few weeks to 24 months. 
"Dr. Boyd stands as a dedicated advocate for collaboration between academia and local manufacturing, and the perfect partner in this endeavor is undoubtedly KCC," Joyce said. "Our ongoing dialogues with local employers like CSL Behring only reinforce the importance of this partnership. Through engagement with high schools and KCC on STEM programs, we're setting the foundation for a skilled workforce. At KCC, one can stride towards further education or seamlessly transition into the workforce – a testament to our commitment to shaping a prosperous future.
"Kankakee County is now ranked third for manufacturing hubs (small) in the United States," Joyce continued. "As we lay the groundwork for expansive manufacturing facilities locally, with its promise of numerous well-paying jobs, it becomes imperative to align our efforts."
Top photo: (Left to right) KCC board members Pat Martin and Cathy Boicken, Joyce, Boyd.
Bottom photo: (Left to right) KCC student Joshua Imig, professors Dr. Jessica Kawa and Michael Caparula, Joyce, KCC students Noah  Cleveland and Morgan Fischer.
Tweet