Nugent promoted to vice president
Posted On: 07/18/22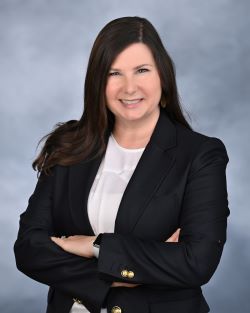 Kari Nugent has been promoted to vice president at Kankakee Community College to provide strategic direction and leadership for KCC's advancement, marketing, and communication initiatives.
Formerly, Nugent had been director of marketing and public relations at KCC since 2004. In the newly created role of vice president for advancement, marketing and public relations, Nugent will build relationships with donors and stakeholders of the KCC Foundation. She will also assist in developing and integrating strategic plans and coordinating resource development at the college. Nugent will continue to oversee the college's website, advertising, brand initiatives, printing/production, and internal and external communication.
"Kari understands the power of community, and she values the lasting relationships that KCC has built with the students and clients we serve," said Michael Boyd, Ph.D., KCC's president. "She has already demonstrated her outstanding ability to craft our brand and to tell the story of KCC's impact on students' lives. In her expanded role as vice president, she's poised to make even greater achievements by aligning community interests and college resources with student' needs."
In all, Nugent has more than 25 years in marketing and business-related positions. Since joining KCC's staff in 1999, she has held positions in advising, instruction, recruitment, the college foundation and marketing.
"I'm honored to be a part of the incredible work that elevates students," said Nugent. "Helping find ways for students to afford college, telling students' stories, and working with them to help achieve their goals is rewarding. It's exciting to be a part of the energy and positive growth that occurs in our community and with KCC."
Prior to KCC, Nugent was a marketing professional at McClier in Chicago. In the community, she is vice president of the board of directors for the Helen Wheeler Center for Community Mental Health. She also is a board member for Mattea's Joy, and formerly served on the Community Foundation of Kankakee River Valley board. In 2013, she was selected for the Kankakee County Chamber of Commerce "40 under 40" list, which recognizes dedication to making a positive change in the community.
Nugent has a bachelor's degree in journalism and Master of Business Administration degree, both from Southern Illinois University at Carbondale.
Nugent and her husband, Joe, live in Bourbonnais with their two children.
Tweet