Grand Opening June 16
Posted On: 06/09/22
The community is invited to a Grand Opening celebration for the newly renovated Industrial Technology Center at Kankakee Community College.

The Open House will be Thursday, June 16, from 4-6 p.m. at the Industrial Technology Center, located on the Riverfront Campus of KCC. There will be brief remarks at 5 p.m.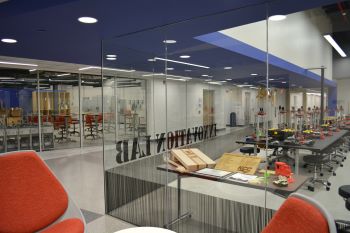 "To be able to have some of the latest and greatest technology equipment is just a fabulous opportunity, not just for the students but the community because these are the students that are going to become the workforce in the community for years to come," said Paul Carlson, KCC dean of business, technology and human services.
Major funding for the renovation project was provided by Nucor Steel of Kankakee.

Carlson said the first credit for the newly renovated Industrial Center belongs with community members and businesses including NUCOR and a number of others.
"They send an awful lot of their employees to KCC for additional training, for initial training, and for skill enhancement," Carlson said. "It's also a real recognition of the drive and desire and the ability of our faculty members that have had visions of the spaces, the learning spaces, to be caught up to 2022."


The Grand Opening event will also include a special presentation to dedicate law enforcement student scholarships in honor of Bradley Police Sgt. Marlene Rittmanic and Bradley Police Officer Tyler Bailey. The scholarships were funded through a donation following the "I Got Your Six" 5K Run/ 2-Mile Walk," held Sunday, May 22. 

"Students need to afford their education, and they need good-paying jobs after they earn their credentials," said Kari Nugent, KCC director of marketing and public relations. "KCC grads benefit because we work with employers like NUCOR to align our programs with workforce needs. Students will experience an immediate difference in the classrooms and labs."

The 37,000-square foot Industrial Technology Center houses classes offered in four programs within KCC's Business, Technology and Human Services Division. Those programs are Automotive Technology, Computer Graphic Technology, Electrical Engineering Technology and Law Enforcement/Criminal Justice.

New features include an Automation/Hydraulics Lab, Innovation Lab to showcase work completed in STEM Guitar and 3D printing courses, and a Police Training Simulator. Some areas of the building already had equipment which met or exceeded industry standards, and those spaces received less extensive changes. Those rooms include the Law Enforcement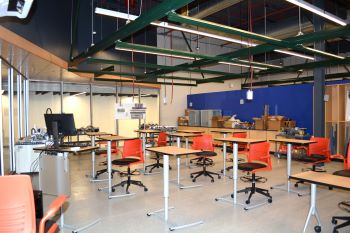 Classroom, Graphic Design Lab, Design Technology Lab and Automotive area. 

One area that underwent major changes, the Motor Control Lab, opened in time for Spring 2022. It was completed first because the college's Air-Conditioning and Refrigeration program relocated to the Manufacturing and Industrial Technology Center (2580 S. Route 45/52 in Kankakee) in 2020. The area it occupied was renovated first and became the Motor Control Lab.

The renovation began in February 2021 and cost $4.54 million. 

KCC is located at 100 College Drive in Kankakee, south of downtown Kankakee. Directions to KCC are at www.kcc.edu/about/#riverfront-campus.
Tweet