KCC professors to debate "Frankenstein"
Posted On: 04/26/22
Differing interpretations of an iconic character in literary history will be debated Thursday, May 5 from 4-5 p.m. in the Miner Memorial Library at Kankakee Community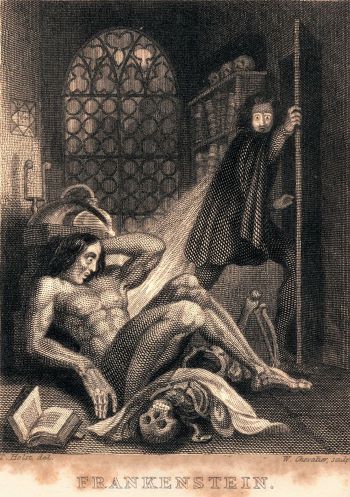 College.
The question of "Is Frankenstein's Monster Real?" will be debated by KCC professors Ken West and Joshua Riley.
The discussion will center on an iconic book, "Frankenstein," by Mary Shelley.
"It's an incredible work, full of murder, mayhem, chaos, psychological drama," Riley said. "(It's) the thriller of all thrillers. And an amazing book." It is free and the public is invited.
"At the event, we'll have a discussion as to the question of whether Frankenstein's monster is real," Riley said. "I believe that Shelley intends that the monster is a physical thing in the world. Professor West disagrees. I think he is wrong. Professor (Scott) Kistler will provide a historical context. And we'll see who's right."
It came about in the normal course of conversation among friends, Riley said.
Professor West believes the character, Victor, creates a psychological construct that is not the flesh and bone resurrected monster of popular culture. West argues that it is Victor, made mad by his own ambition and pride, that actually commits the killings of the novel.
Riley will claim the monster is an actuality, calling him "a science experiment gone awry and the consequences of which Victor tries and fails to undo his heinous act."
The book's author, Shelley, is "an 18-year old young woman and the text is remarkable for its psychological insights," West said. "And, Professor Riley and myself, as well as Professor Kistler, will be exploring two of the major interpretations of the text. We'll ask (the audience) to weigh in on the most plausible interpretation."
The audience will be asked to vote on the two perspectives. There will also be time for questions.
Kistler, Riley and West and are professors in KCC's Liberal Arts and Sciences Division. Kistler mainly teaches history courses, West teaches philosophy and Riley is an adjunct English professor.
KCC is located at 100 College Drive in Kankakee, south of downtown Kankakee. Directions to KCC are at www.kcc.edu/about/#riverfront-campus.
Tweet