Updated COVID-19 testing hours
Posted On: 01/14/22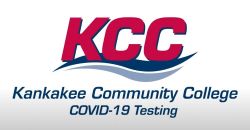 COVID-19 testing is available for free to KCC students.
Weekly tests are offered at the KCC Riverfront Campus and South Extension Center as a convenience to students. The hours are:
Riverfront Campus (Cavalier Room): Mondays: 9 a.m. - 1 p.m.; and Thursdays: 11 a.m. - 3 p.m.
South Extension Center in Watseka are Tuesdays: 10 a.m. - 1 p.m.
Tests are administered by Chicago Loop Medical. This 1 min. 16 sec. video shows the process. Walk-ins are welcome, and appointments are recommended as well. Make appointments and access your results through Loop Medical Center's secure and HIPAA-approved Web portal.
You are NOT required to submit a credit card or have insurance/proof of insurance to test at KCC.
The test is a PCR (polymerase chain reaction) test.
More information and complete information on Weekly COVID-19 test requirements for students who are not vaccinated are at coronavirus.kcc.edu.
Tweet